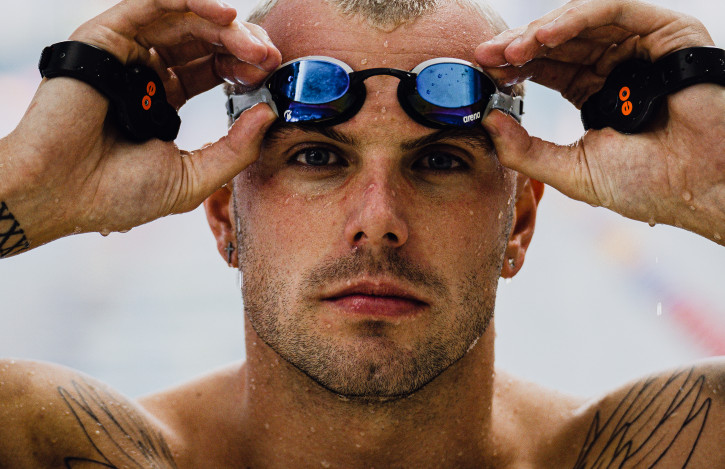 KYLE CHALMERS
Olympic Champion, World Champion and World Record Holder
Name
Kyle Chalmers
Date of birth
25 June 1998
Place of birth
Port Lincoln, South Australia
Club
Marion Swimming Club, Adelaide, South Australia
Coach
Peter Bishop
Social Media
Instagram @kyle_chalmers3
MeDal Tally

Olympics

| | |
| --- | --- |
| 2020 Tokyo | 1 x Silver + 2 x Bronze |
| 2016 Rio | 1 x Gold + 2 x Bronze |

World Championships - Long Course

| | |
| --- | --- |
| 2023 Fukuoka | 3 x Gold + 2 x Bronze |
| 2022 Budapest | 1 x Gold + 1 x Silver |
| 2019 Gwangju | 1 x Gold + 2 x Silver + 1 x Bronze |
| 2015 Kazan | 1 x Silver |

World Championships - Short Course

| | |
| --- | --- |
| 2022 Melbourne | 3 x Gold + 3 x Silver + 1 x Bronze |
| 2018 Gold Coast | 4 x Gold + 1 x Silver |

Commonwealth Games

| | |
| --- | --- |
| 2022 Birmingham | 3 x Gold + 1 x Silver |
| 2018 Gold Coast | 4 x Gold + 1 x Silver |

World Records

| | |
| --- | --- |
| 2023 - Long Course Mixed 4 x 100m Freestyle Relay | 3:18:83 |
| 2022 - Short Course 4 x 100m Medley Relay | 3:18:98 |
| 2022 – Long Course Mixed 4 x 100m Freestyle Relay | 3:19:38 |
| 2021 – Short Course 100m Freestyle | 44:84 |
60(ish) seconds with: Kyle Chalmers
1. What drew you to swimming?
Becoming an Olympian.
2. How old were you when you started to properly focus on swimming?
16
3. At what point did you know you were good enough to make a career out
of it?
From 12 years old I was breaking Australian records, but it wasn't until I made
my first senior team in 2015 and started earning money from swimming that I
thought of it as a career.
4. Were you always a Freestyler and Butterflier? Did you ever have any
interest in backstroke, breaststroke, or IM?
When I was young I did everything but as I got older I started to focus on
freestyle and butterfly.
5. Can you tell us what your average daily routine is?
Every day is different, but most days look like:
Swim 6:40-9:30, breakfast, nap, lunch, swim 2:30-5:30pm, dinner, then bed.
6. How many kilometres would you swim in an average week?
45-50
7. You turn up to training and your coach says, "We're doing 'this' today."What 'this' makes you want to go straight back home to bed and what 'this' gets you pumped to jump straight in the pool?
I know it's my job and that is why I have driven to the pool, and I know that I want to be the best in the world so the only way to achieve that is by training and training hard.
8. Where is your favourite place to compete?
Anywhere that has a huge crowd. Pools are the same, crowd and atmosphere is what makes the difference.
9. Outside of your incredible medal wins, tell us another highlight of your swimming career?
Breaking my first individual World Record in Kazan in 2021. It's something I never thought was possible.
10. Who's your biggest inspiration?
My mum.
11. Who's your fiercest rival? / Who do you love/hate competing against?
At the moment, Caeleb Dressel is the person I have the biggest rivalry with and love to test myself against.
12. Do you have any pre-race rituals?
As I have gotten older I have tried to eliminate rituals because they can cause so much stress if I'm unable to do them for any given reason, but I always make sure I have a football with me and kick that around.
13. What's your go-to post training feed?
Anything that is quick and easy. I enjoy variety and anything my mum cooks. I love Mexican food though.
14. What's your go-to meal on race day?
Pasta the night before is always the go, to fuel myself.
15. If you could pass on one piece of advice to a swimmer looking to improve their PB - whether it be in or out of the pool what would it be?
Listen to your coach and work harder than every other person in the pool, no matter how you're feeling.
16. What advice would you give to a teenage National-level swimmer who is struggling to balance swimming and schoolwork?
Always be on the front foot with teachers and the school, letting them know of your schedule and commitments so they are able to work around you.
17. If you weren't a swimmer, what would you be?
Football player
18. You've travelled the world with swimming. Where is your favourite place to play tourist?
The USA. I am a huge NBA fan, so being able to watch games live is the best.
19. You can invite five people to dinner, living or dead, who would you invite?
Kevin Durant, Chris Judd, Adam Sandler, Lebron James and my brother.
20. You have a lot of tattoos; do you have a favourite?
Probably the lion/heart piece on my left forearm as it has the most meaning.
21. Your love of reptiles is well documented. How many do you have at home currently and what are they? Also, do you give them names?
I have cut back a massive amount recently as I have been spending so much time overseas and interstate, at one stage I had close to 500 critters, now I am down to about 20. Nothing has names apart from my crocodile, his name is Coc the croc.
22. And finally, can you tell us about your craziest/funniest/weirdest fan interaction?
I always find it crazy getting stopped when I am overseas. But I think getting stopped in bathrooms for photos is always a very weird place.