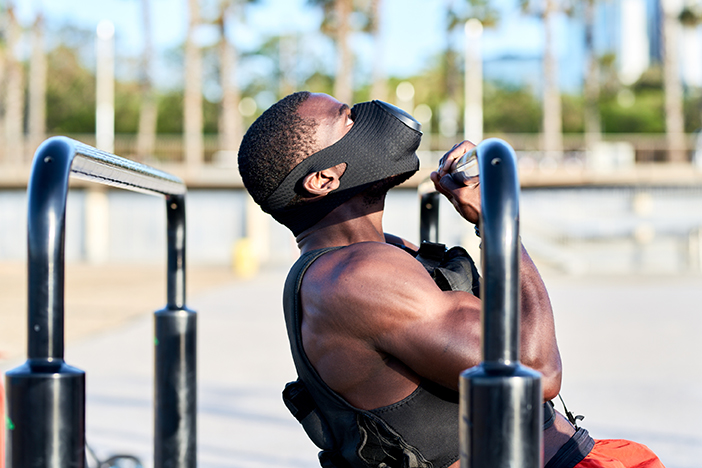 Hi there,
I've been quiet for a while.
The world hasn't.
War. Economic crisis. A global pandemic.
The shit list goes on.
What happened?
I don't know, but it's given me time to think.
Life's too short not to try and do something.
So, in response, I've launched eo.
I wanted you to be the first to know what it is and, much more importantly, why I've done it.
To go forward I'll start by going back. Bear with me.
Hopefully if you know me, you know that I stand for progress. In sport, in society and, sometimes, even in myself.
I take great pride in getting rid of the obstacles that hold progress back with a passion that has, in the past, sometimes gotten me into trouble. But, you know what, I wouldn't change a thing. Helping get rid of Sepp Blatter from FIFA proved even Teflon doesn't last forever. Check your pans. We helped improve the Kafala labour law system in Qatar, probably my proudest moment. We got more funding to help stop doping in athletics. Bugger me, I even went on tour with Ben Johnson to prove the point. Oh, and then we got rid of the toxic owners of Blackpool FC, the Oystons. All for the love of the beautiful game and the hate of the ugly governance afforded to it. When we organised the rainbow laces movement in 2016 for every football code in Australia, there were no openly gay players. Last year, Adelaide United midfielder Josh Cavallo became the first male A-League player to publicly come out. In the UK, until this year, the last male player to come out in professional football (soccer for those who prefer) was Justin Fashanu in 1990. He subsequently killed himself. Last month, 32 years later, Jake Daniels of Blackpool FC is the only professional English player to come out since. In that time, we've had the internet, smartphones, Amazon and eight Harry Potter films. But to really put it in perspective, that was the same year that Apartheid ended. Is that progress? You decide. If you think it is, maybe don't read on.
There have been so many missed opportunities to progress too. No one believed Qatar could or should ever host a World Cup, not in a million years. I actually don't believe in shutting regimes out, if you do, nothing changes. Unlike many, I didn't have a problem with the decision, the unforgivable tragedy was that change wasn't demanded in exchange. The concessions were weak at best. It's another example of how FIFA sees progress. It's actually them being dragged kicking and screaming to do something. Not wanting to do it but knowing they have to be seen to be doing something. They could do (and be) so much more.
And then there's actual regression.
Unfortunately, and depressingly, we have come to expect war, disease and recession as a part of life. But who expected what's happening in the US right now? The imminent overturning of Roe v Wade and abortion rights is just so hard to comprehend. Made even more devasting that at the same time, and in the same breath, the 'pro-life' army are still pro automatic weapon. The only conclusion you can draw is that they honestly believe children's lives only matter before they're born. You couldn't make it up. I wish someone had and it wasn't real. Seeing the powerful, impassioned, personal plea by Steve Kerr, after the latest school massacre, gives us some hope. An example of the voice sport can have, in the right hands.
Progress will always be core to my purpose, using sport and my platform to make a difference. But I'll never jump on a bandwagon. Not unless I can make it go faster!

The one area I know we can progress, with some certainty, is sporting ability. And the only thing we can really rely on to do it is the science of defiance. Not fake news or science fiction but science fact. Think about it. When it mattered the most, the world created a lifesaving vaccine in a record 3 months. Unless you're an anti-vaxxer, that's pretty bloody impressive. Science always wins out. Creating progress beyond the doubters and optimists and even expectation. And that's rarer than rocking horse shit. Sport has progressed, on the field at least, because of science and technology. Not hopes, prayers and blind optimism. Defiance is the will that powers progress and science is the only way to guarantee it. Legally, of course!
Anyway, where is this going? What's the point? What's the purpose?
I know we can all progress faster, on and off the field. For example, the fastest modern tennis serve is recorded at 163.7 MPH by Sam Groth, ten long years ago, in 2012. But that's just a gnats cock faster than William Tilden's serve of 163.6 MPH in……...wait for it…….. (Groth did!)……..1931. And probably with a racquet that resembled a rug beater, not a world beater. Is that progress? Have some sports been left behind because of the way technology and science has been applied? I don't know, maybe the clocks were just a bit rubbish!
The majority of sport tech available, so far, measures progress but doesn't improve it beyond motivation and intermittent nagging. In the pursuit of mass appeal what's available has become too basic and, because of that, the software and analysis really needed has been held back by cookie-cutter hardware. So generic that last month Samsung had to pull their ad for misleading the public about the safety of women running alone at night. There was nothing new to say so they just made something up! On the flip side there are real physical insights that could be explored and unleashed through technology. For example, why is it that an electric shock can send a person hurtling across a room? It's not the electricity that sends a person flying, but every muscle in their body firing simultaneously. Isn't that fascinating?
Like social progress, I truly believe physical achievements could progress faster. That's why I've assembled some of the greatest and passionate minds in sports science to create new technology and innovation that can accelerate progress and unlock every ounce of potential we have in us. Experts like Olympic swim coach Brant Best. Together, we've focused on the sports that need it most, the ones that have been left behind. These are products that haven't existed but definitely, not defiantly, should. We call them WMP's, weapons of mass progression. But that's just us, for the moment at least.
Our first product is eo SwimBETTER. For a global sport that has (forgive me) been crawling in the slow lane when it comes to innovation. Until now everything has been done by eye, instinct and generic technology. All these things still have a place, just not first place. eo SwimBETTER does exactly what it says. Clever as buggery but a no-nonsense name. For the first time ever, swimmers (and coaches) will have the ability to quantify technique and improve performance based on precise data interpretation, as it happens. It's already being used and endorsed by some of the biggest (and baddest) names in Swimming and Triathlon. Kyle Chalmers OAM, Olympic champion and World Record Holder. And then there's Vincent Luis, two-time ITU World Champion. They've both said they've never seen anything like it before and then, even more passionately, why the fuck not? But this isn't just for pros, this is for progress. For anyone and everyone that wants to swim faster, faster.
It's great to be in touch again but let me end the beginning of this incredible journey with a final thought. I've spoken a lot about progress, but it means so much more. I'm committed to accelerating performance in every way. In the future it's not just about performance enhancing but includes improving recovery and adaptation, aiding rehabilitation and prevention and minimising injuries. And, of course, the progress of society through sport and a platform for good.
I believe in progress for everyone. In sport that means not being excluded because you're not a pro. I want everyone to have the means to be the best athlete possible, not only the impossibly elite. Why shouldn't everyone have the best tech available. That's progress.
We have a lot of history together. Let's make more.
Back